Ten things you probably did not know about "The Big Bang Theory"
The popular series of television premiered its sixth season and here we celebrate reviewing some of their secrets
With an episode marked by the love problems of its protagonists, The Big Bang Theory premiered in the United States its sixth season , here are ten things you probably did not know about the funny story starring Jim Parsons , Kaley Cuoco and Johnny Galecki .
1. The original name of the series would be "Lenny, Penny and Kenny". In late 2006, the producers of the series had a pilot program substantially different from what we see on television today. Among some differences, there were two characters that were the counterpart of Sheldon and Leonard called Katie (who later became Penny), played by actress Amanda Walsh , and Gilda, played by Iris Bahr . In this first pilot survived only Sheldon and Leonard.
2. In that same pilot episode, Katie's character, ie the genesis of Penny, would be found by Sheldon and Leonard on a street with alcoholism. His destiny was to live in the same department as them, something not convinced CBS executives.
3. Names of the main characters take their names from Sheldon Leonard , producer and a famous American television writer who became known for shows like "The Andy Griffith Show" and The Andy Griffith Show .
4. Mayim Bialik , who plays Amy Farrah Fowler, Sheldon's girlfriend, is the only of the entire cast of "The Big Bang Theory" has a PhD. In 2008 completed his studies in Neuroscience. Her character, meanwhile, has one in Neurobiology.
5. David Saltzberg , a professor of physics and astronomy at the University of California, Los Angeles, checks scripts for the series include scientific references, math or diagrams used as complements.
6. A few of the actors in "The Big Bang Theory" were known series Roseanne . Among them, Johnny Galecki (Leonard), Sara Gilbert (Leslie Winkle) and Laurie Metcalf (Mary Cooper, Sheldon's mother). Even Chuck Lorre , the creator of the series, worked as a writer on several episodes of "Roseanne".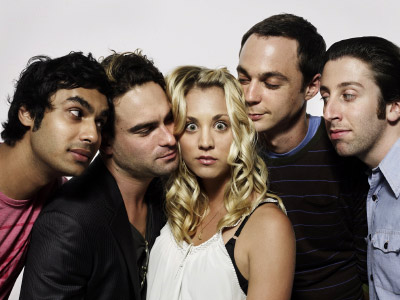 7. The Canadian band Barenaked Ladies is responsible for interpreting the theme of the series. Before Chuck Lorre offered them write the song, the group had been rejected by other producers, who preferred to touch famous bands in the opening credits.
8. Howard's mother, whom he always hears screaming but never seen, is played by actress Carol Ann Susi .
9. In his six seasons, "The Big Bang Theory" has had several famous scientists in some cameos. Some of those involved are nobel winning astrophysicist George F. Smoot , the physical defense of string theory Brian Greene and best known of all, the cosmologist Stephen Hawking .
10. Bazinga, the phrase that usually repeats Sheldon to hold some of its rare jokes and whose meaning has never been clarified by the creators of the series (all you have said about it is that it was taken from a production assistant), has been registered as a trademark by Warner Bros.